---
The Wiltshire Times - Reviewed by Mark Gorman aged 16. (25.5.01) [top]
Written by Swindon's David Churchill, Fishing Forever is a good read, with some light comedy and also a good twist.
Basically, the novel is about a teenager, Dave, getting hooked on fishing and finding that some fishermen stay fishermen for ever. Geographically it is interestingly and convincingly placed in a local setting (there is a trip to Devizes for instance)
I enjoyed the linear progression of the stories, but I think it is most suitable for people who actually know something about fishing as there are lot of fishing facts. But the book still works even if you don't know what a size 22 hook is. In general the story...is quite addictive. It glamorises fishing somewhat but then there are worse things to do.
The book is definitely worth reading by all ages, as it does not seem to be aimed at a specific age category. For young readers there would be lots of new concepts to get their heads round but there's plenty in there for adults too. A real catch.
---
SAGA MAGAZINE (November 2000) [top]
If you want to read a fishing book that famous angler Chris Yates says will "lead to…a bristling of new rods along the water's edge", seek out a copy of Fishing Forever.
And strive to remember that you are as young as you feel. These tales from the river bank by David Churchill are pleasantly different
---
Improve Your Coarse Fishing (April 2000) [top]
This book covers the life and times of two anglers as they grow up alongside their sport. The scene is set around the rivers and waterways of the Thames in Wiltshire, near to the home of the author.
It's a very clever book, both in content and layout, which has been aimed at the angling teenager. The book paints a picture of angling the way I certainly remember it as a youngster. It's also a very easy read and the chapters are full of what fishing is all about - lots of adventure.
The writing gives a taste of mystery and enjoyment, something that's definitely missing from today's "instant angling".
It's a true reflection of what fishing is all about, and as each chapter progresses, the bond between angler and his surroundings shines through. If you had a fishing apprenticeship, catching small perch and minnows as I did, then you will be able to relate to this book in a big way.
The final chapter sees the two main characters back in touch with each other, after a great many absent years. With a visit to a place they both fished as teenagers old ghosts are laid to rest. For the beginner to fishing it's a good introduction to what fishing should be about, and to the old school it's a great trip down memory lane.
Martin Ford
---
The Times (18/12/99) [top]
This paperback... was brought out in response to a call...for more books to capture the imagination of teenage boys. And it is certainly an exuberant read: in a single episode the youthful heroes get to save the life of a schoolteacher who had also played hookey to go fishing and then catch a record roach with his rod....
This praiseworthy speculative effort will find its way into quite a few youthful stockings...(Brian Clarke)
---
Wellington News [top]
Fishing Forever is a charming and delightful book...
David Churchill's love of the river and the countryside bubbles through this book which must become a classic of its kind.
---
Waterlog (The magazine for the Absolute Angler) [top]
The author has drawn on his angling experiences to produce a story book for teenagers, a rare thing these days and a brave experiment by the publisher. This collection of tales about Dave and Ken sees the boys fish for everything from gudgeon to pike and in between breathless accounts of derring-do, manages to squeeze in some sound advice on tackle and tactics. Worth a punt if you have a young relative who needs encouraging.
---
The School Librarian (March 2000) [top]
David Churchill…is undoubtedly a keen fisherman. His enthusiasm shines forth from every page of this collection of seven short stories. For other enthusiasts, these stories will no doubt be interesting for the technical detail and the information they contain…The seven stories are briskly written and centre on the friendship of Ken and Dave. Ken is the experienced fisherman who manages to persuade his sceptical friend Dave to try out the sport. Inevitably, Dave is 'hooked', and it is through Ken's instruction to Dave that the ignorant reader learns about fishing. Other themes explored are the risks of bunking off school and the dangers of exploring an underground lake…However…the title of the book says it all.
---
The Caravan Club Magazine (March 2000) [top]
Fishing Forever is a brilliant, exciting collection of fishing stories for teenagers (or 8-80 year olds) lightly illustrated with black and white sketches.
---
Edward Wells from Cricklade [top]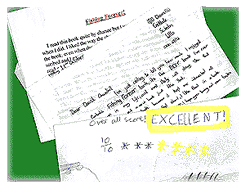 Dear David Churchill,
I'm writing to say how much I enjoyed your fantastic Fishing Forever book.
It's the BEST book I've set eyes on in my life and most likely will stay like that unless you bring out a new one just like that...
It kept me interested all the way through which made it feel short. I like that in a book because you don't forget how it started off...
---
Ben Webb, Bradon Forest School, Purton [top]
Fishing Forever Book Review
Best character?
Ken, because he likes fishing and knows a lot about it.
Realistic parts?
When you get in a tangle and it takes 5 minutes to untangle it and when the bank breaks away when you stand on it and you get a shoe full of water.
How good is the book?
The book was excellent because everything was so realistic that you feel part of the story.
Overall score ten out of ten...EXCELLENT
---
Thomas Jellis, Warneford School, Highworth [top]
I read this book quite by chance but I was pleasantly surprised when I did. I liked the way the characters kept fishing right through the book, even when they get older. Everything was very well described and I could picture it all in my mind. It was also different to read a book based on Swindon and the surrounding area. I liked the boy who they met whilst fishing one day, it made me feel weird the way he was described and the way Dave and Ken talked about him. When they went back to see if he was still there, was a nice touch. But my favourite part was when they rescued ??????? [left out not to spoil the story! Author] when they were skiving from school!
There were a good variety of stories and I liked the way they all joined together. A good book I enjoyed reading and good luck.
---
learn2fish.co.uk [top]
A well written book that anyone who has been fishing will relate to...
For those of you who do not yet fish, read this book, it will give you the urge to have a go. You may even realise what you have been missing out on.
Although this is a book aimed at teenagers I can vouch that even the biggest kids amongst us will enjoy it. A good reminder of why we persevere through the awkward winter months
For the full review please visit www.learn2fish.co.uk
---
wordpool.co.uk [top]
Well-written and fast moving, this book is a series of exciting short stories about Ken and Dave, two boys who love fishing. It has plenty of technical detail and descriptions to delight angling enthusiasts and the short story approach appeals to reluctant readers who may feel daunted by a long book.
As an added bonus, the author invites young readers to write to him and promises to put their reviews on his website.
For the full review please visit www.wordpool.co.uk